BODHI MEDICINE
Online training
with Dr. Nirdosh Kohra
Welcome to the new health paradigm!
Join Dr. Nirdosh Kohra and the Bodhi Medicine community in one of the most empowering processes you can experience for your health, the health of your family and that of your environment.

Today more than ever we need to understand in detail the interconnectedness of our Body-Mind-Heart to prevent diseases, get out of them in a natural, comprehensive and conscious way and reach our full potential as human beings.

By receiving and integrating all the information and practices of this training, you will again feel confidence in your body and reconnect with the intuition, wisdom and power that we have forgotten and are our birthright in this human experience.

If you are a health practitioner, you will receive invaluable tools, experiences and knowledge to expand your practice and support your patients in a much more comprehensive and effective way.
This training will allow you to:
Get out of the fear of diseases and empower yourself in your health.

Stop fighting the symptoms, and start understanding and acting on the messages they are giving you.

Experience a deep healing process, supported by a conscious community that already lives in the new health paradigm based on updated and comprehensive science.

Regain confidence and security in your body, recognizing its incredible wisdom and self-healing capacity.

Have sufficient knowledge about the human body and health to be able to discern misleading health data and propaganda.

Feel more empowered to make yourself respected and express your truth in front of a doctor or a health authority.

Count on the unconditional support of the Bodhi medicine community in your daily life, a community made up of awake individuals with the drive to continue growing and healing through sharing knowledge, life experiences and healing resources.

Being part of the most significant movement on our planet today; the empowerment of the human being in his autonomy over his health and the creation of a new paradigm of Human-Planetary health.

As a health professional. enhance your practice with comprehensive therapeutic tools that you will not find elsewhere.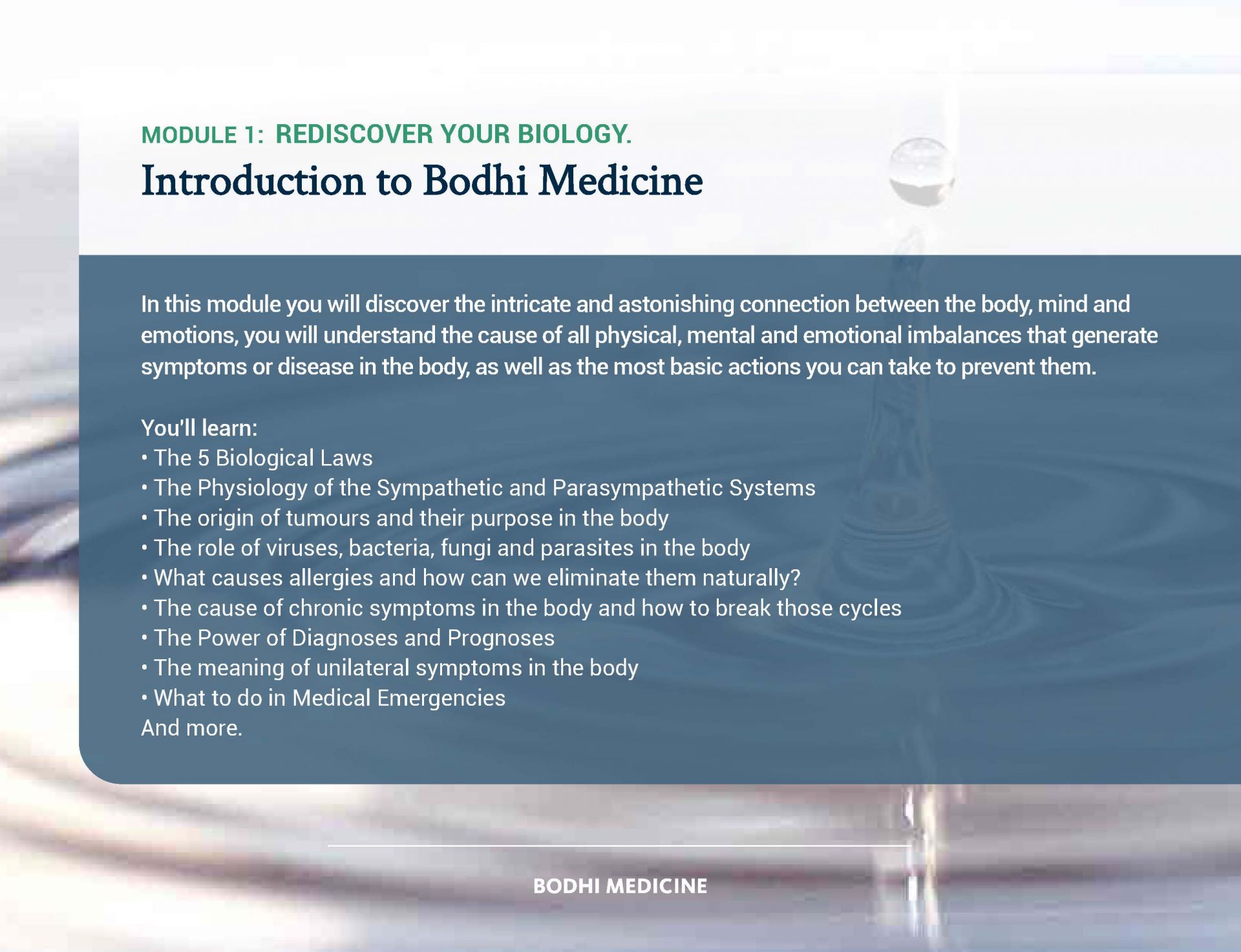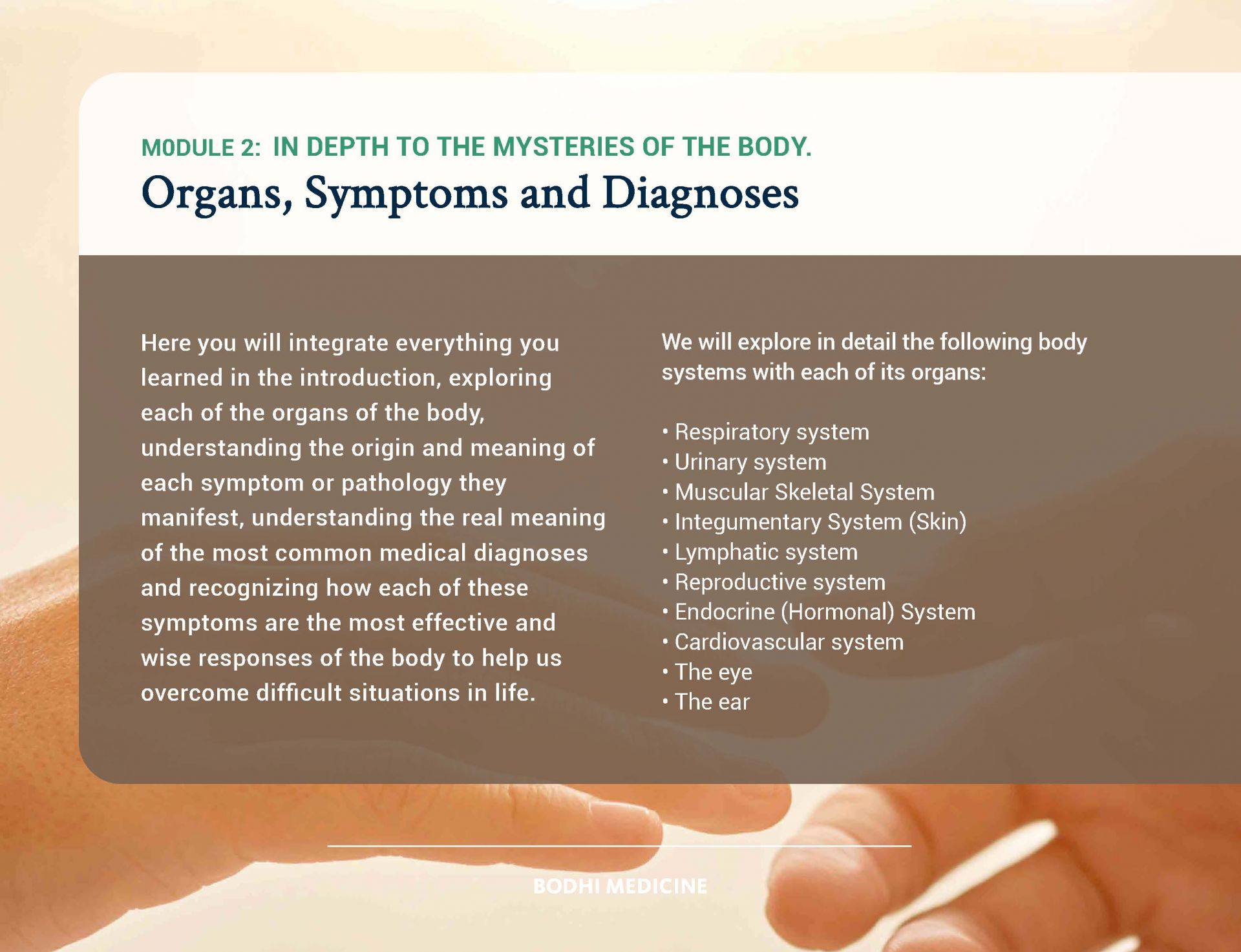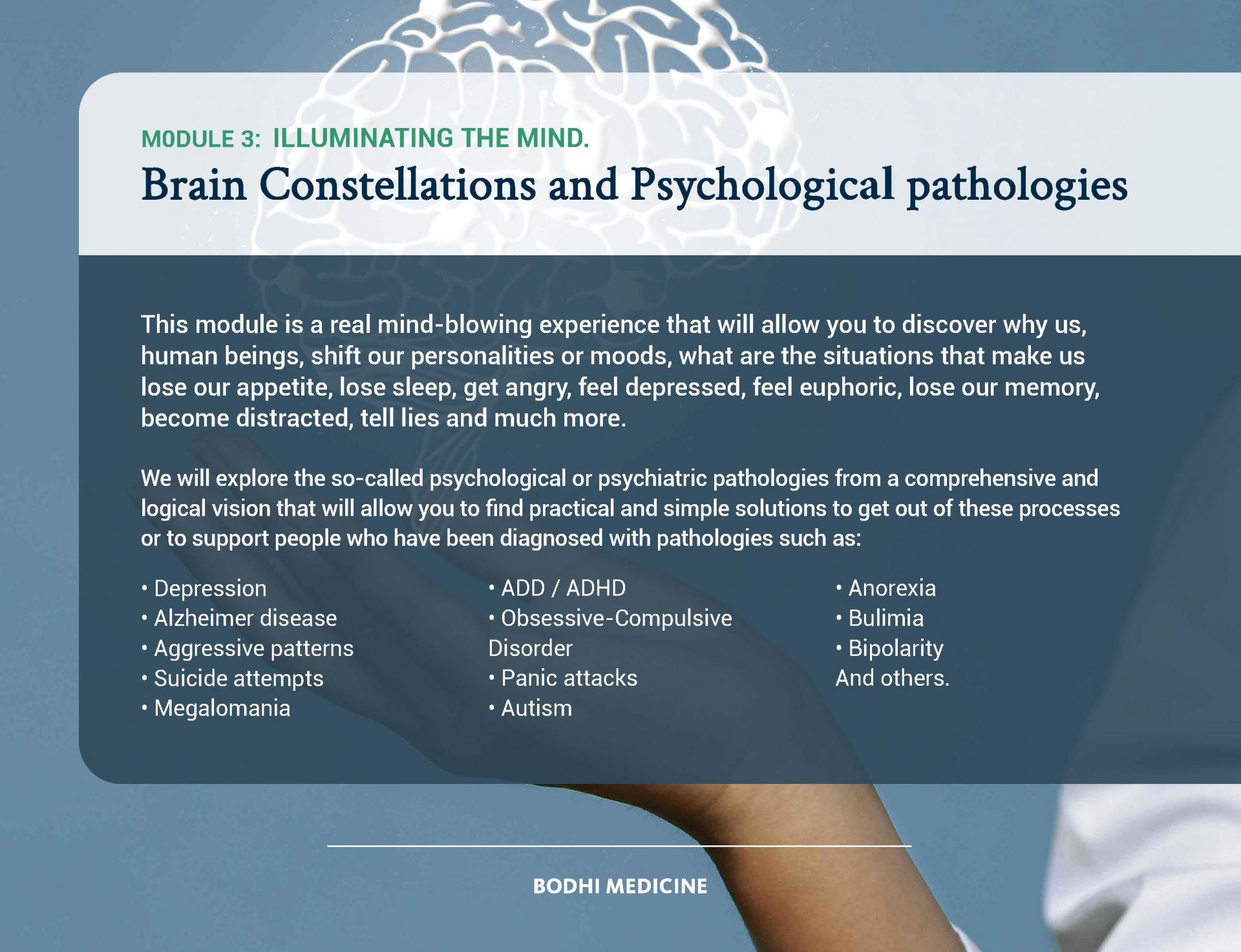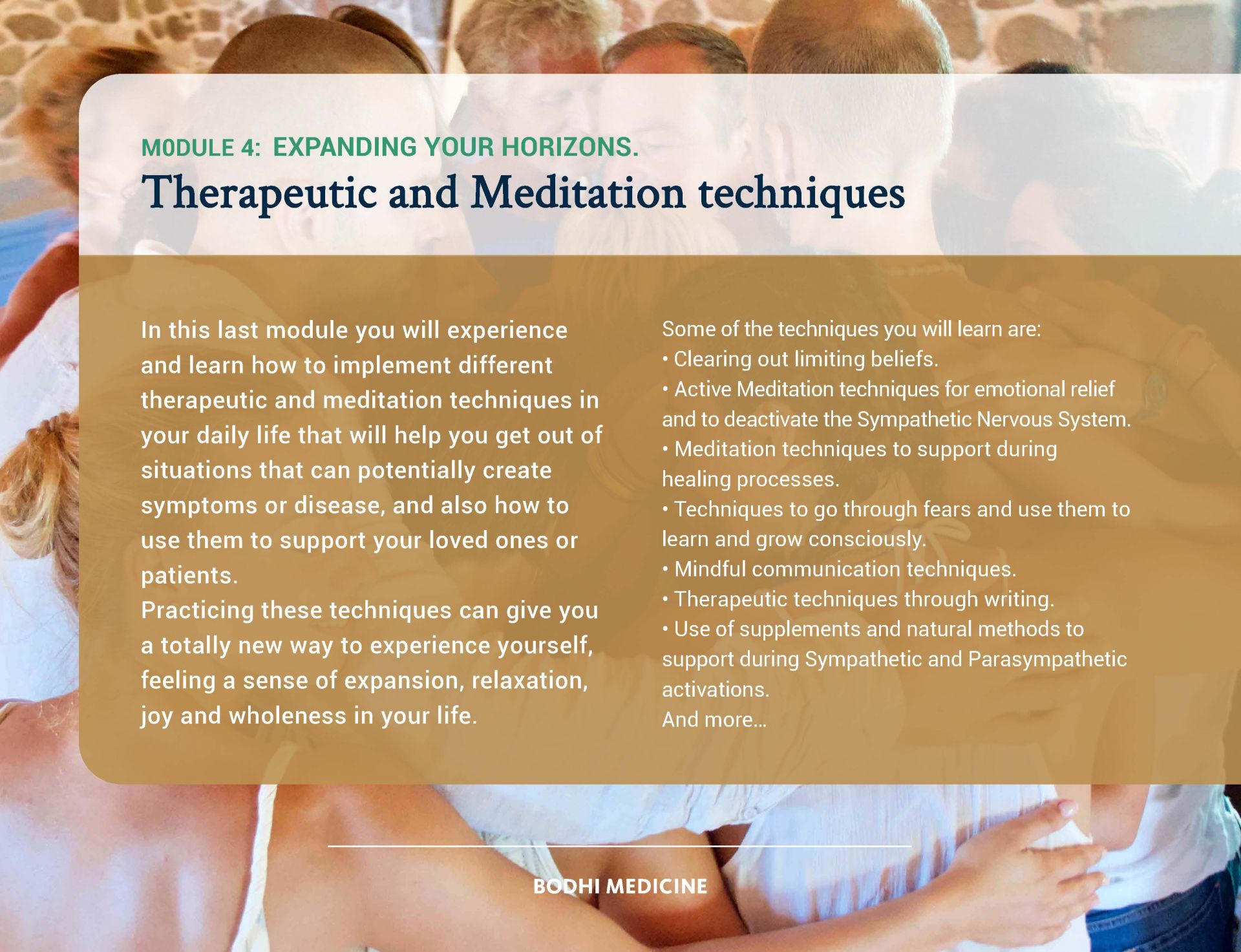 Some friends sharing their experience of the Bodhi Medicine training:
Bodhi Medicine offered me a deep connection with my mind and body, creating a new understanding of how life is organizing it-self in the most amazing way. A shift in my understanding that the symptoms are in most cases the first phase of healing released the tensions and offered me the relaxation so much needed for the body and mind to recover and heal even faster than usual.
Bodhi Medicine and the 5 Biological Laws have allowed me to open and understand the world of emotions and the human psyche, their relationship to the cycle of health and disease, and how it´s all connected. For me a it was a Big Bang after 25 years of studying medicine... the puzzle is finally complete. A new path, a new intuition and a clear mission. I am deeply grateful forever for this new way of seeing life.
Luis Sierra Suarez
Orthopedist, Knee surgeon. Mexico City
Thank you very much for the Bodhi Medicine online course, I did in April. The understanding that it gives really changes the perception of "diseases" and the attitude of the processes in the body. I really enjoyed it. I can trust my body much more now and don't have fear. And I didn't have during this coronavirus situation.
Ksenya Muzhikovskaya
Meditation Leader, Kazan, Russia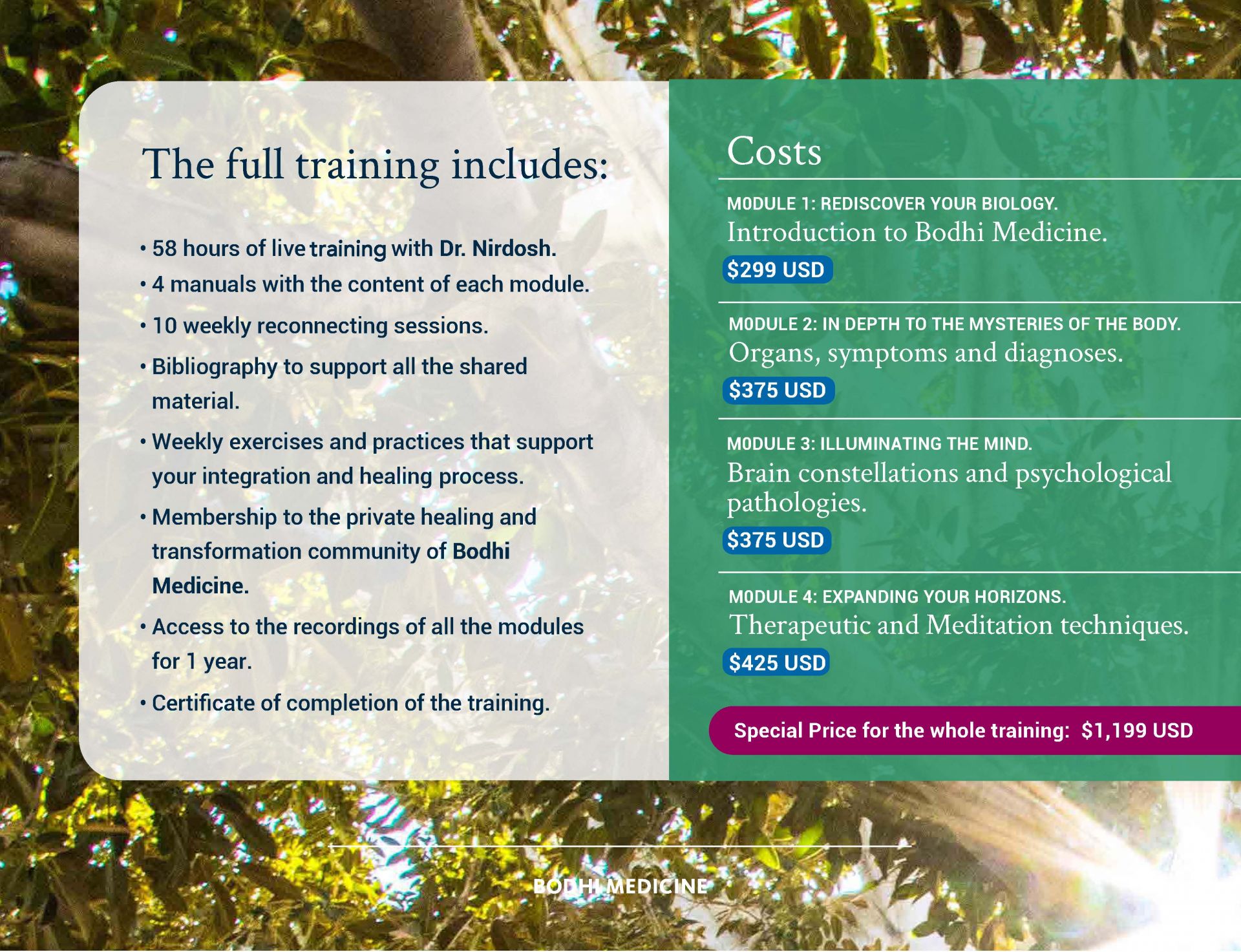 Module 1
Introduction to
Bodhi Medicine
Module 2
Organs, symptoms
& diagnoses
Module 3
Brain Constellations
& psychological pathologies
Module 4
Therapeutic & meditation
techniques
SPECIAL PRICE WHEN BOOKING THE FULL TRAINING!
$1,199 USD
You can also reserve your place through the following:
Through
Paypal
, transferring to:
nirdosh_5@hotmail.com
To a Revolut Account:
BIC/Swift: REVOLT21
IBAN: LT37 3250 0524 4962 3578
Beneficiary: Yonatan Eidels Huber
Through an international wire transfer to:
Bank: Banamex /Banco Nacional de Mexico
Address: Bosque de duraznos 187, Bosques de las lomas, Mexico City, 11700
Bank account: 002180052566840308
Swift code: BNMXMXMM
Name of account holder: Yonatan Eidels Huber
Phone: +5215526994376

With Bitcoin (BTC) to:
bc1qm9yrfgg2u4qr6kwx9ltm7axhv5kr6x2e5f6qnh
Created with